Interested in Being a Vendor?
The San Francisco Salsa Festival provides an invaluable opportunity to reach future customers!
Our event brings quality social dancers, musicians, and world-class instructors to the Bay Area to cater to the ever-growing and diverse salsa and dance community. Reserve your spot now to tap into this rich market and build relationships with dancers and musicians from around the world!
Tap the button below and select the "Vendor Booth" option to begin the reservation process.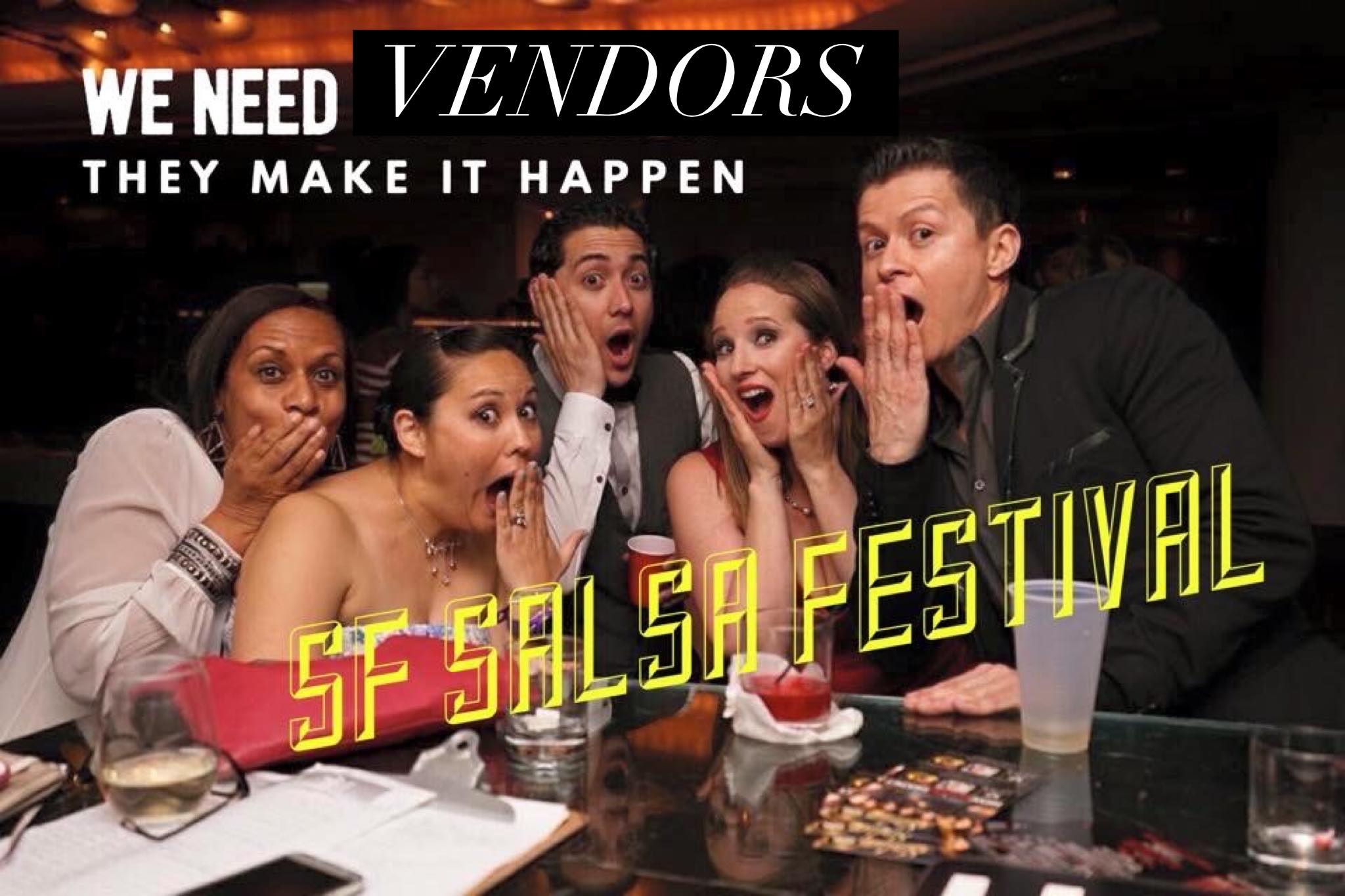 Vendor Terms
*Please note: No refunds on vendor booth reservations.*
Vendor booths are free to operate during any and all of the festival events (Friday night competition, performances, and dancing; Saturday all day workshops; and Saturday night performances and dancing).
Vendors will also receive tickets to all evening shows and parties during the weekend with a max of 2 evening passes per stand. (This does not include workshops.)
Vendors are required to organize and book accommodation (if required) at the Marriott Waterfront Airport Hotel only. Vendor fees do not include hotel accommodations and hotel rooms must be purchased separately.
Spaces for merchandisers are sold on a first-come, first-served basis. Vendors may not change location without the prior agreement of Organizers.
Vendor table(s) and 2 chairs will be provided by the San Francisco Salsa Festival at no extra cost. Please inform us if you need any additional chairs (max 2).
Vendors are entitled to a banner, link and brief description on the San Francisco Salsa Festival website (Vendors Info page) where a reciprocal exchange is expected.
We cannot guarantee proximity of nearest power sockets but will do our best to accomodate. We cannot provide dressing rooms, mirrors, clothes rails, lamps or any other facilities.
Music vendors must provide headphones with any listening equipment. General music may only be played whilst there are no classes taking place and with prior agreement from organizers. Please respect other vendors and keep volume levels moderate.